Northern Panhandle reaping benefits of location, shale resources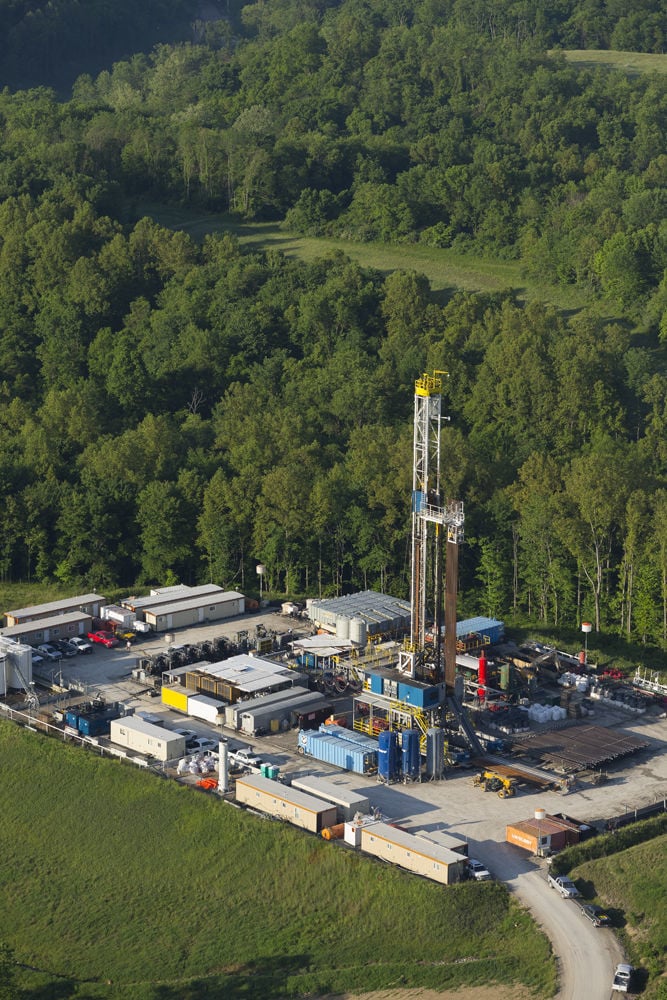 WHEELING — While West Virginia's Northern Panhandle currently accounts for about 38 percent of the Mountain State's gas production and nearly 70 percent of the oil it produces, its biggest advantage may well be its location.
It's minutes from one ethane cracker plant already under construction, and minutes from a second that, if local leaders are to be believed, is looking more and more likely to be built. There's rail service, interstate highways, an international airport within easy driving distrance and, of course, the Ohio River. It's also within 500 miles of most major population and manufacturing centers in the eastern United States.
"It's hard not to be excited about the upward momentum we are seeing in the Upper Ohio Valley," said Wheeling Mayor Glen Elliott. "The fundamentals are there for economic growth to come from the surrounding areas."
West Virginia's northern six counties generated about 531 million mcfs and 4.5 million barrels of oil in 2016, the most recent year for which statistics are available. An mcf is a thousand cubic feet. Nearly 1.4 billion mcfs and almost 6.6 million barrels were produced statewide that same year.
Pat Ford, executive director of the Business Development Corporation of the Northern Panhandle, said there's more than $66 billion in private investment underway or forecast in the Ohio River Valley between Dilles Bottom, Ohio, and Monaca, Pennsylvania. Royal Dutch Shell is building an $8 billion ethane cracker in Monaca, while PTT is still mulling the feasibility of building one at Dilles Bottom.
"They're the bookends of development in that corridor," Ford said. "In between, we have the stars aligning for an ethane storage hub. That's another $10 billion. Southwestern Energy purchased Chesapeake's assets. That number was well over $5 billion, and you have multiple natural gas power plants planned, permitted and some even under construction — that's over $2 billion. And there are other investments that are smaller, but still huge — like Ergo. They've made a $100 million investment … billion wasn't even in our vernacular before the oil-and-gas industry took over."
Perhaps more importantly, Ford said there's also more than $24 billion of pipelines under construction, completed or anticipated in West Virginia's northernmost counties.
"We're right square in the middle of it," Ford said, "The work is far from over for us, because we still have to make sure we have sites that are ready to attract our share of the planned investments that are occurring. We want to have similar success stories like we've had in recent years — we want to see industries continue to expand in our area, to see them all benefiting."
There's also other, smaller investments that are huge, but smaller: Ergon, for instance, made a $100 million investment.
"What we're seeing is a gathering system going in place, not just interstate pipelines but the lines that will connect production sites to the pipeline network," Tyler County Economic Development Director Eric Peters said. "You can't sell gas if you can't get it to market. We have major interstate pipelines that have already been permitted that will run through (the region), that's a big boost to the tax base. But it's also a means to get the product to market, and that investment is very encouraging.
"We've also seen an uptick in drilling permit apps as a result — there's a number of factors for that, but the gathering system is a big part of it. And every pipeline investment in infrastructure helps the tax base, but it also encourages more production, more exploration and more investment."
Peters said seeing that level of investment is "going to encourage other investment."
"Most companies don't want to be the first one in, but once the shoe drops they follow very quickly," he said. "They understand there's opportunities and the risk seems to be less. So when you see a big investment in Monaca by Shell, that's when other companies begin noticing the region and see the opportunities that are here."
Marshall County Commissioner Bob Miller said a lot of the developments go unnoticed in part because of remote locations out of the public eye.
"An example is when Chevron announced two 'super pads' in Marshall County last fall, 35 wells per pad," Miller said. "What does that mean to the average citizen that sees countless smaller pads all over the country side come and go? I am told by people in the industry that the 'average well' costs about $5 million to drill … (with) two super pads and 35 wells per super pad, that equals an investment of $350 million."
Even after the drilling rigs are gone, Miller said those wells will be producing "a huge multiple of that original investment."
"We need to work to get the ethane cracker plants, which bring their customer in close, that's where our long term jobs and revenues will truly be found," he said.
Elliott said there's a lot of hope and optimism surrounding what he refers to as the "presumed announcement" of the Dilles Bottom cracker.
"That investment alone could exceed $5 billion and could lead to billions of dollars of additional economic growth during its construction and future operation; furthermore, it would help ensure Northern Panhandle's status as the hub of the mid-Atlantic's natural gas economy," he said.
"That said, even without such an ethane cracker plant being constructed, I believe our region is particularly well situated to see additional growth. If you draw a 500-mile circle around the Northern Panhandle, you will find roughly two-thirds of the U.S. population. Add to that the mix that we have, the Ohio River as well as a major Interstate running through our region, and the fundamentals are there for economic growth to come from the surrounding areas."
Ford, too, sees potential for a petrochemical hub in the Northern Panhandle.
"With the abundance of raw materials we have in our area now, the network of pipelines and ability to crate natural gas liquids at an underground storage facility, I think there's going to be a new petrochemical region gravitating to the Ohio River Valley," he said. "It's going to be big because of our proximity to abundance natural gas resources, our proximity to manufacturing markets in the midwest and the Gulf Coast, and it helps us from an economic and security standpoint to have two petrochemical hubs."