City of Weirton, local investors and BDC team up to develop 72-acre property in TIF district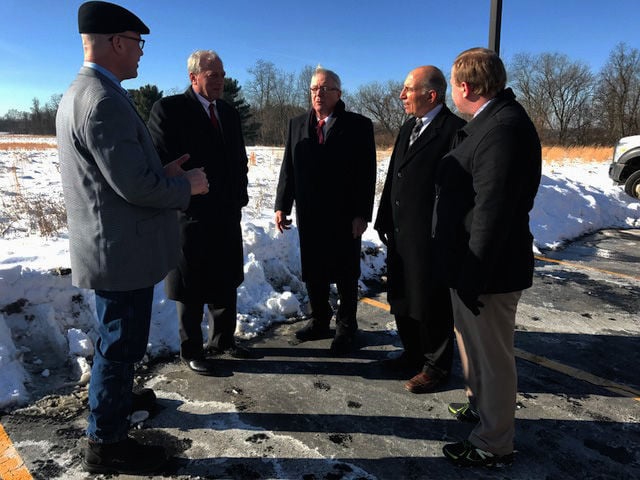 Local leaders say the 72-acre parcel will be mixed use, with about 50 acres earmarked for light manufacturing. The remainder will be retail and hospitality focused.
WEIRTON — Mayor Harold Miller says he had already had a wish list for the community when he took office more than two years ago.
Redeveloping the old Elby's property at the south end of town. Finding a way to reopen the Lee Avenue Bridge in the heart of downtown Weirton. Turning land no longer needed for steelmaking in Weirton into a revenue generator and jobs creator. Making sure Pietro Fiorentini's option on property in the Three Springs Drive Business Park didn't expire without dirt being turned for the company's first U.S. plant.
And now, teaming with local investors and the Business Development Corporation of the Northern Panhandle to re-purpose a 72-acre parcel that years ago had housed youth soccer fields within eyeshot of the old Weirton Steel general office complex.
"We began discussing them just a few weeks into my term," Miller said. "This property, Pietro Fiorentini, the old Elby's property … with this kind of development, sometimes it takes months just to get everybody to sit down at the table."
The BDC purchased the property in December from Weirton's Park Drive Development Group. Park Drive Development, a group of local investors, had acquired it about six years ago, but hadn't been able to do anything with it. Park Development Principal Eric Frankovitch said that had as much to do with the economy as its infrastructure needs.
Terms of the deal aren't being released. BDC Executive Director Pat Ford, though, said Park Development's members will remain involved in the multi-million dollar redevelopment project but as investors, not site owners.
"The market has improved, and certainly, infrastructure has been an impediment," Frankovitch said. "We purchased the real estate and have a lot invested in it, not just time, but also money. We would like to be able to recapture some of what we have in it."
All three entities — the city, the BDC and Park Development Group — will have a hand in the multi-million dollar development, which is in Weirton's tax increment financing district. Increased revenue from property taxes generated in the TIF zone will be reinvested in projects there, helping pay for infrastructure, like access roads, water and sewage.
"The best part of it is the partnership we have between the city, Brooke and Hancock county commissions and the BDC," William D'Alesio, chairman of the BDC, said. "All of us play a big part in development of our area. It's been this way the last four or five years. We know development is happening here because this area has so much to offer, so yes, we're very excited."
City Manger Travis Blosser said officials envision a mixed-use development, with about 50 acres designated for light manufacturing. The remainder will be retail and hospitality-centered.
"Over the past year, things have been moving at a rapid pace for us," Blosser said. "We've been cutting ribbons left and right for businesses … we're on an upward swing, and I think this is the next big movement of this collaborative effort."
Ford said they already have five solid prospects — two of them in energy and a third in value-added metals.
"The two manufacturing prospects we're in discussions with to the point where we're going to move forward with letters of intent," he said.
Ford said he appreciates the local investment group's willingness to "transfer the property to us (knowing) that we will work with the city to develop the site with a variety of improvements to meet the demands we see in the market today. That's what makes this project unique."
Frankovitch said with the involvement of the BDC and city, "we're very hopeful…this property can be developed for the benefit of the whole area."
"With their marketing, financing abilities and ability to get infrastructure in there, I think this property will be a good addition to the area," Frankovitch said.
Ford said the project has been talked about for several years, though it wasn't until a prospect approached them that they moved forward with it.
"It's not going to happen tonight or tomorrow, but we have the resources available to us with this collaboration that we can work toward a deal," he said. "The stars finally aligned for us to realize there was an opportunity, if we collaborated."
Frankovitch's investment partners are J.J Bernabei, Michael G. Simon and Jason Backel.